As temperatures begin to drop, you might notice a chill coming from around your windows. As the drafts pour in, your money flows out to the power company. If the permanent solution of replacing your old windows with energy efficient ones is currently out of reach, there are a number of alternative solutions that can make your home more comfortable while saving you money.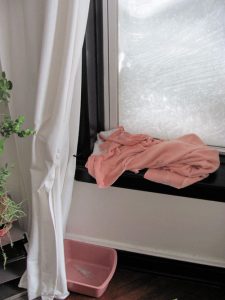 But to solve the problem, first you must find it. One trick is to use a candle. Slowly move it around your window frames. When it flickers, you've found a leak. You can mark it so that you can come back and seal it later. Fill in any cracks or gaps with caulking. If you find particularly large gaps, you'll want to remove any old, dried caulking first. You can also apply self-sticking weather strip to help windows close tighter. You'll be able to tell if you should do this by performing a simple test. Close the window onto a dollar bill. If the bill can be easily pulled out, time to weather strip. Before you apply, be sure to remove any old material from the bottom of the window first. After accurately measuring and cutting, all you need to do is peel of the sticky backing and press. Try the dollar test again. If you can't pull it out, you're all set.
Draft snakes are commercially available – basically a tube of stuffed fabric that you can rest in window sills and along the bottoms of doors. You can even make them yourself with minimal sewing skills, from old socks or towels. Rice is a good filler.
Perhaps obvious, but still good options are to hang heavy curtains or cellular shades. Also known as honeycomb shades, the air pockets within the unit add a layer of insulation. Plus, they let some light pass through, if you don't want the darkness a heavy curtain provides.
Two ways to weatherize your windows that both act as virtual, inside storm windows are:
Fit plexiglass or acrylic panels inside your existing window frame, secured with screws in the corners of the frame.
Install window insulation film
These are cost-effective ways to mimic actual storm windows that don't take much expertise to install. Some people even install bubble wrap to the insides of windows with double sided tape. These methods are only acceptable if you know you won't be needing to open the windows for the remainder of the season.
If none of these remedies provide the level of comfort you are seeking, window glass replacement is a logical option. Replacing old single-pane window glass with insulated double-pane window glass right within the existing frame can be done more cost-effectively than replacing the entire window. Not only will you be fighting winter drafts, but also saving on your utility bills. To get a quote from the Binswanger branch nearest to you, please visit our Find A Location page.