Glass – it's not just for windows anymore. Glass is such a versatile material that designers and architects continue to come up with unexpected ways to feature glass in all parts of the home. With modern tempering technology, glass can resist breaking, and be used for a multitude of purposes.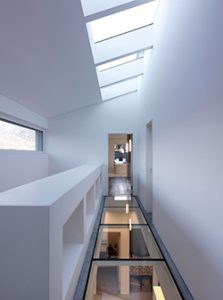 Flooring
We've all looked up and seen skylights. They are great for letting light into a space. But have you ever looked down and seen glass beneath your feet? Glass flooring isn't just dramatically beautiful; it is also a great way to allow light to pass through a house, and connect one space to another. There are glass floor systems engineered for that specific purpose, that are vigorously tested for safety, and have anti-slip properties.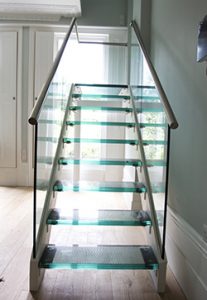 Stairs
Step up to a new level of style with glass stair treads. While glass railings and balustrades are becoming more common, glass stair treads are less so, and therefore make a striking impact on your interior. They can be used just like a typical wooden tread, on either a spiral or traditional staircase.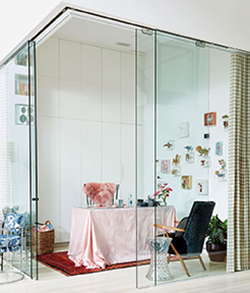 Interior Walls
Of course large window walls are great on the exterior, especially when you have a wonderful view. But interior walls made of glass can be a great solution when you want to make a semi-private space where there are no exterior windows, but you still want to see out. Glass walls are fairly typical in offices everywhere, but uniquely spectacular for your home office.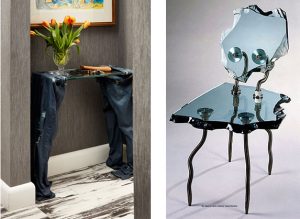 Furniture
Glass tables aren't a new idea, but glass chairs are. This might be where you'd seat a guest that you don't want to stay for too long! While it may not be the most comfortable place to sit, it certainly is eye catching. And when made from thick, tempered glass, you won't have to worry about it cracking beneath you. Those tables we mentioned – artists are getting very creative with their designs like this one with legs made from old blue jeans.
What all of these applications have in common is that they tend to make a small space look larger. When there aren't visual barriers, rooms feel more spacious. While mirrors reflect light and space, glass reveals and frees up space. So in a small space, opting for glass just makes the best sense. Perfect examples of this are in small bathrooms, where the design features clear glass shower doors rather than a shower curtain or even frosted glass. The transparency of glass allows your eyes to take in the whole space versus being blocked by the visual barrier. This holds true as well for other things like glass tables, shelves, and door panels. Get creative and think outside the box – or just make the box out of glass!