Anyone that has worked with heavy equipment or farm machinery knows that they can be susceptible to flying debris. Broken glass on equipment used in construction, farming, and industrial applications is not just dangerous, it can cost hours of downtime on the job.
According to the Occupational Safety and Health Administration (OSHA), heavy machinery must have "an intact windshield with working windshield wipers." This is for good reason – damaged glass poses a hazard to the operator, since glass with cracks or breaks cannot provide adequate protection to keep the operator safe.
We have strong relationships with suppliers for OEM parts, especially for curved glass that is only available through the dealers. However, we appreciate that replacing heavy equipment glass with OEM parts can get costly, so it is worth investigating if it is flat laminated or tempered glass, as there are often cheaper options available for replacement. Additionally, OSHA approved acrylic safety glass windows, plexi-glass, and polycarbonates might be options that could help prevent future breaks and save you time and money in the long run. Our trained professionals have the expertise to evaluate options for each situation, the knowledge to determine what is right, and the skills for proper installation of all of the possible solutions.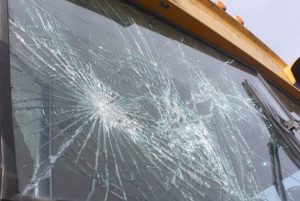 At Binswanger, there is no vehicle too large to tackle. We've replaced glass on:
Backhoes
Tractors
Excavators
Loaders
Forklifts
Bulldozers
Cranes
Railroad Cars
Semi-Trucks
Busses<
RVs
Campers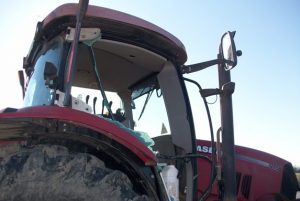 Plus, glass replacement on heavy machinery and large vehicles can be done at the project site, reducing downtime for both the machinery and the operator. Our goal is to get your vehicles back in working condition as quickly and efficiently as possible, so you can safely operate and get back in business ASAP.