As soon as coronavirus hit the shores of the United States, the team at Binswanger Glass, under the leadership of CEO Mark Newsome, re-tooled to help in the battle against COVID by providing retail shields to frontline workers.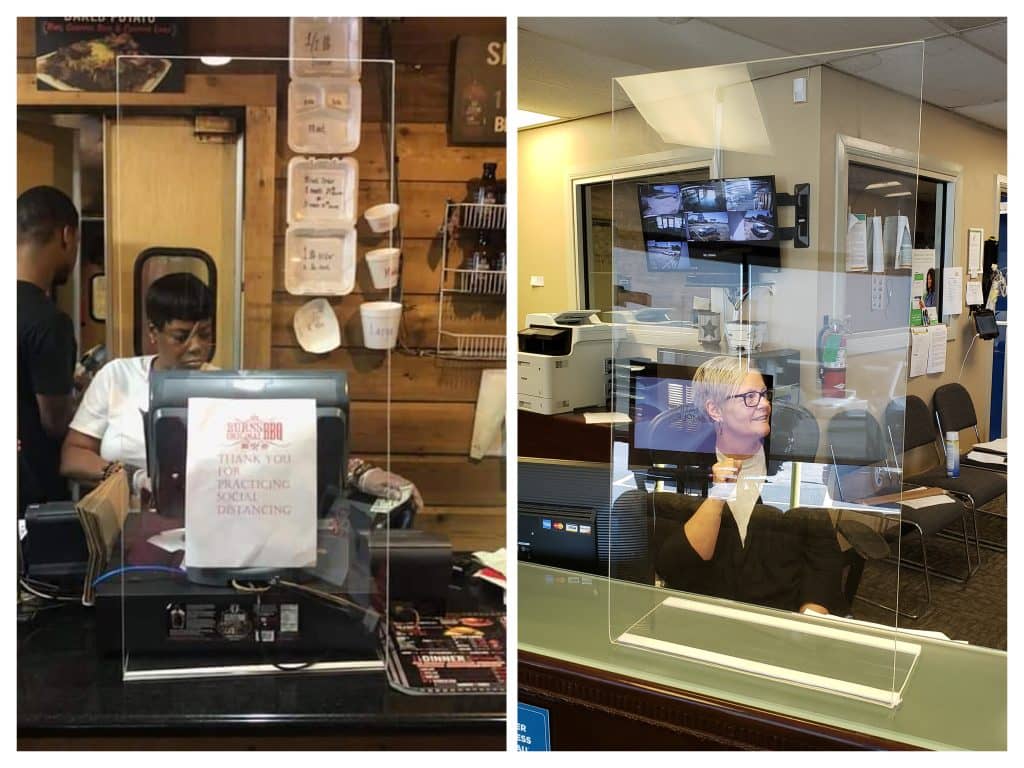 Binswanger Topeka was pivotal in developing a full line of custom and standardized barriers that were rolled out across the Binswanger Enterprise. The team also began creating new healthcare-related products including custom intubation boxes and ventilator exhaust ports for hospital ICUs.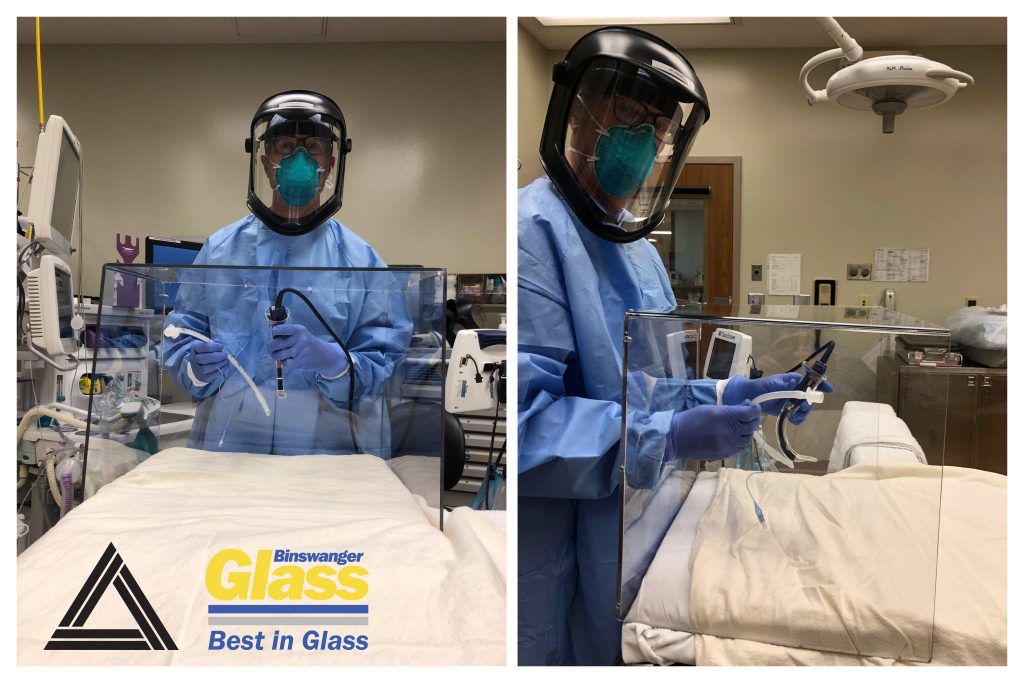 As transit systems began coming back online, so did the demand for bus driver shields. That is when dentists, care homes, healthcare clinics, and general retail businesses opened the flood gates for permanent and semi-permanent solutions.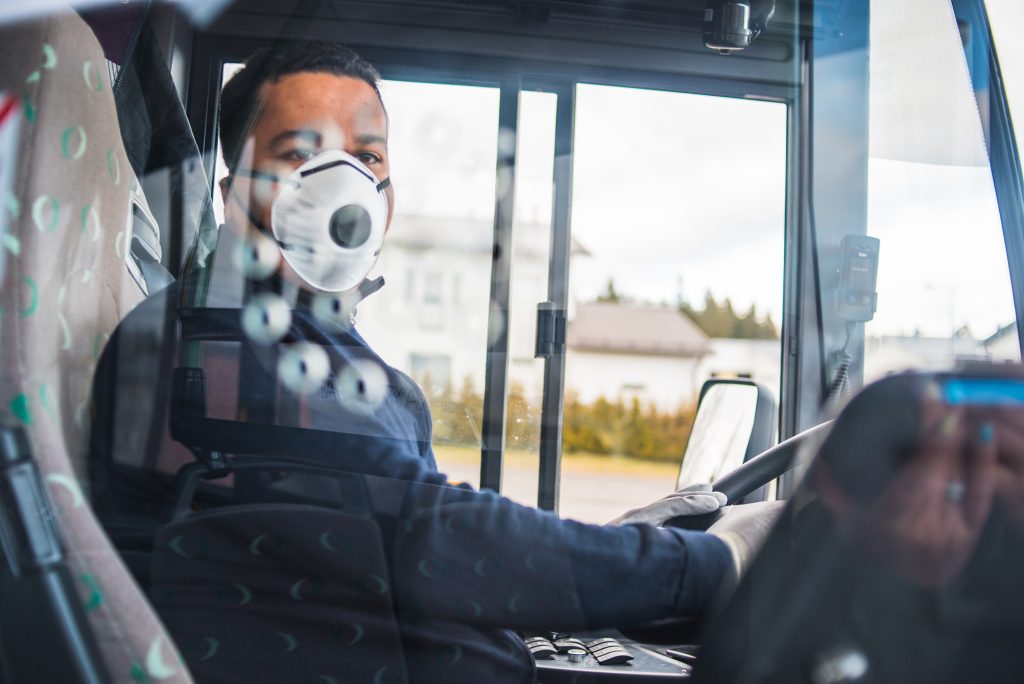 "Effort creates opportunity," says Binswanger Topeka branch manager Jason Tomlinson. "We saw a gap and we just pushed. You can't be closed-minded. A lot of companies will only do the status quo. They will do one thing well and not try anything different. Fortunately, we have the right folks with the vision and ability to create. That, and some luck!"
Jason's team also fabricated over 2,000 polycarbonate shields for polling locations during the 2020 primary and general elections. "No one should be afraid to vote," Tomlinson said during a June 2020 interview alongside Secretary of State Scott Schwab. "We're helping provide an added layer of protection to voters and the community. The barriers are not intrusive, and they provide a safer way for the public to vote."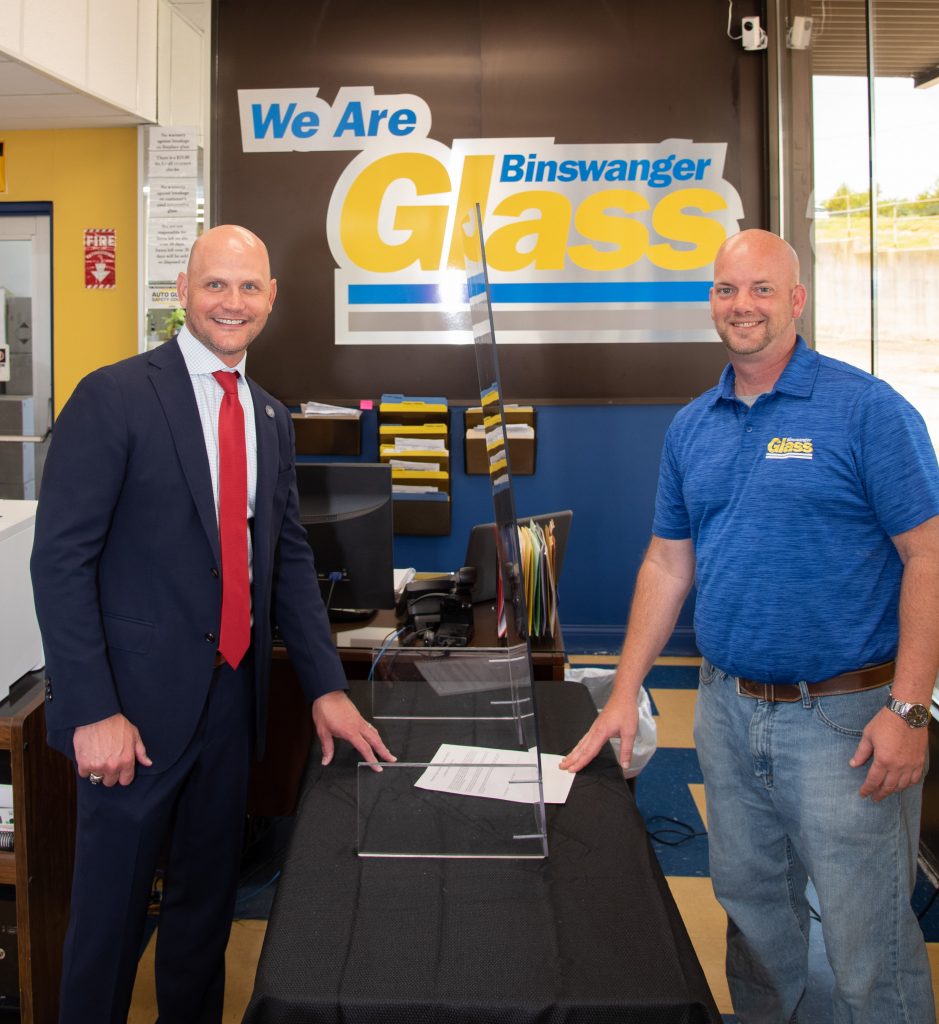 Are COVID breath barriers still in high demand?
"In the past, we never needed to stock much Plexiglas or polycarbonate," says Jason. "Now we're ordering pallets to have on-hand. It made up 30-40% of our business for 2020. Shields helped offset some of the canceled and postponed projects so we could keep our team working."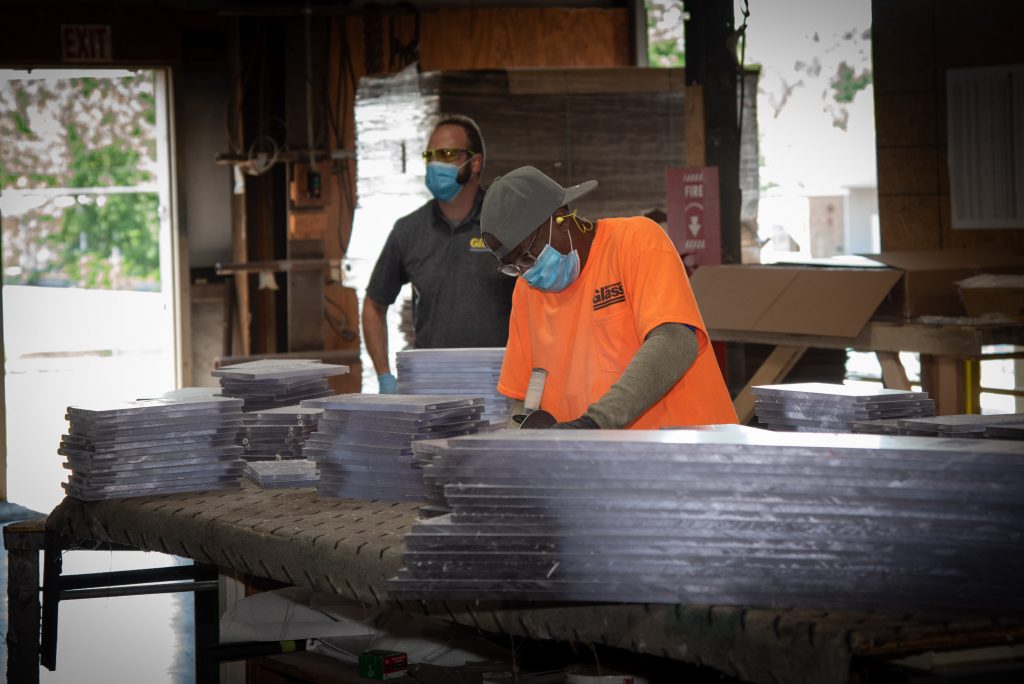 Tomlinson says that a lot of people he speaks with are still hoping that this is a temporary situation. "The first wave of short-term barriers was the initial rush of getting protection out to essential workers. The reality has set into businesses that installing a barrier is something they want to do."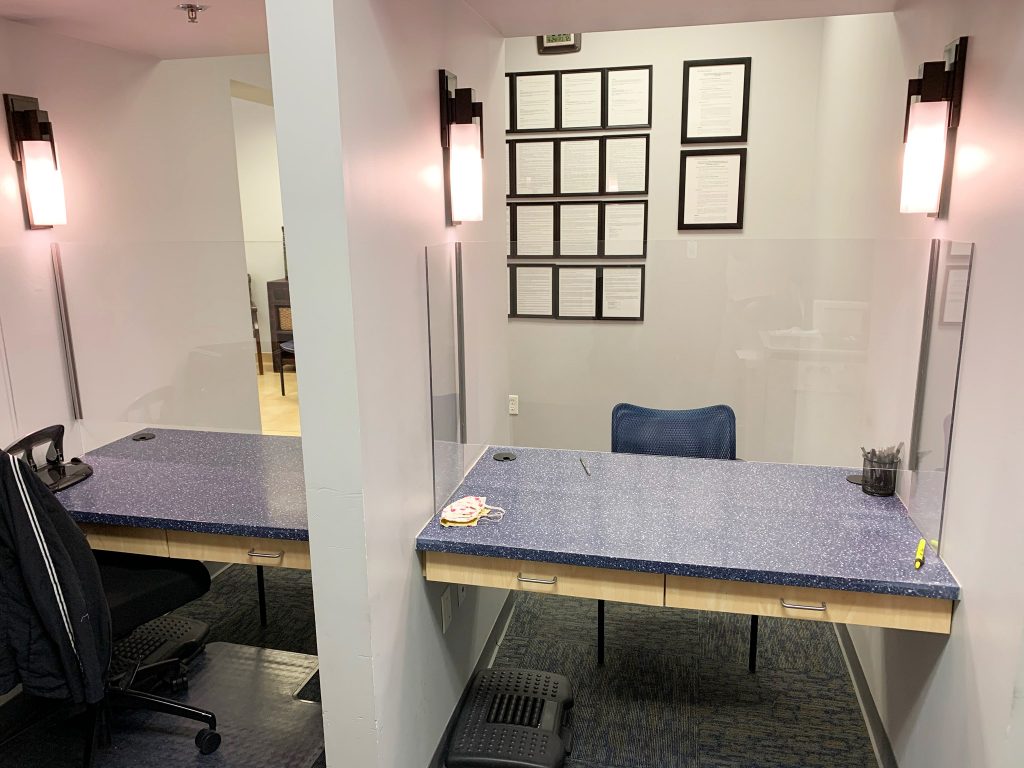 "We try to give options," says Tomlinson. "Binswanger has a changeable solution where we mount channel with a slotted panel of acrylic complete with a speaker hole and passthrough slot. It provides businesses the protection they need now plus they can easily slide the acrylic panels out themselves when things settle down. The panels can be stored and replaced in case of future outbreaks or flu and cold seasons."
What styles of barriers does Binswanger Glass supply?
"We fabricate every type of COVID shield you can imagine including using aluminum storefront channel but we also build and install hanging, desktop, and freestanding floor models. We even have mobile units with caster wheels. Designing and building them from start to finish in our shop allows us to control quality and lead times. It allows us to respond quickly to the needs of our customers."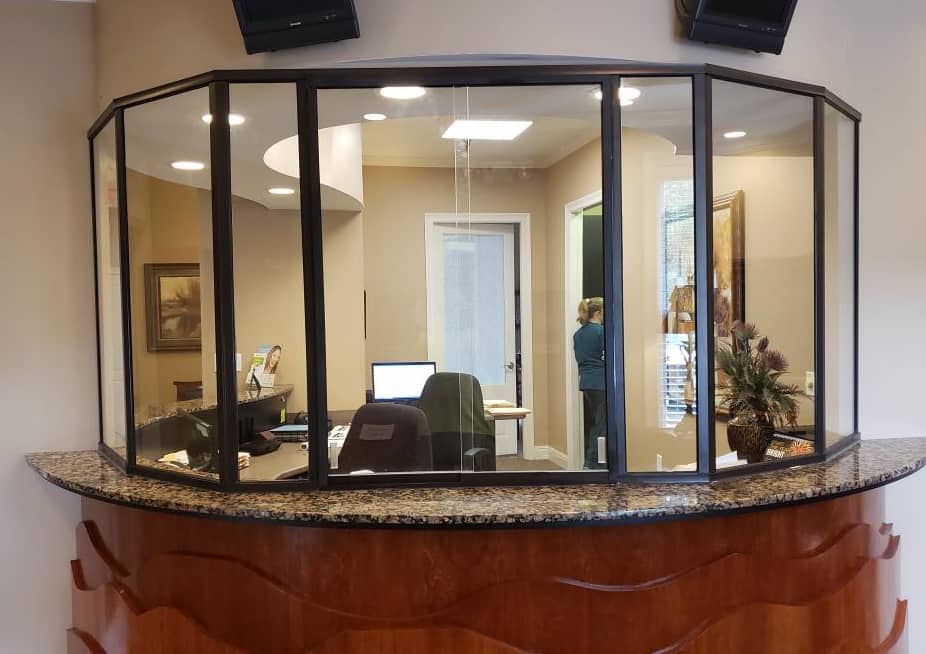 What sizes can you provide?
"Everything is custom," shares Tomlinson. "We always find a way. We can use joinery to make them 20 feet long if we needed to. Depending on functionality requirements, there is close to unlimited potential."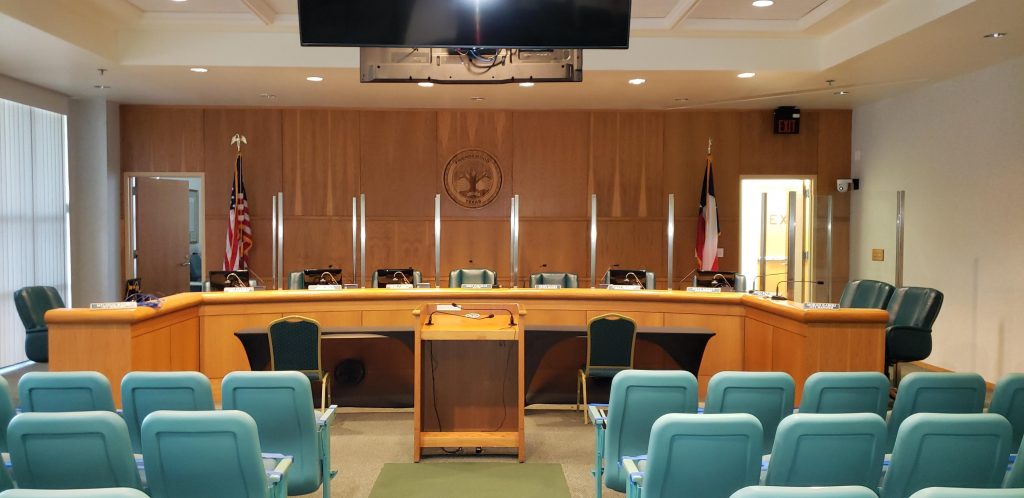 Are the partitions that Binswanger Glass is supplying mostly glass or plastic?
Tomlinson explains that it's a mix of glass, acrylic, and polycarbonate. "The choice of product really depends on the application. We installed a really large glass partition recently for the local District Attorney. There are pros and cons for every product."
What else has Binswanger Topeka done to improve barriers and partitions?
"We were able to hire a high-end custom millworker and incorporate his skillset to make some really unbelievable sneeze guards," explains Jason. "They are fully finished, wood-framed shields so they are safe and can be stained or painted. Having his knowledge and skill in-house to combine wood frames with glass, poly, and acrylic panels allows us to offer almost unlimited configurations."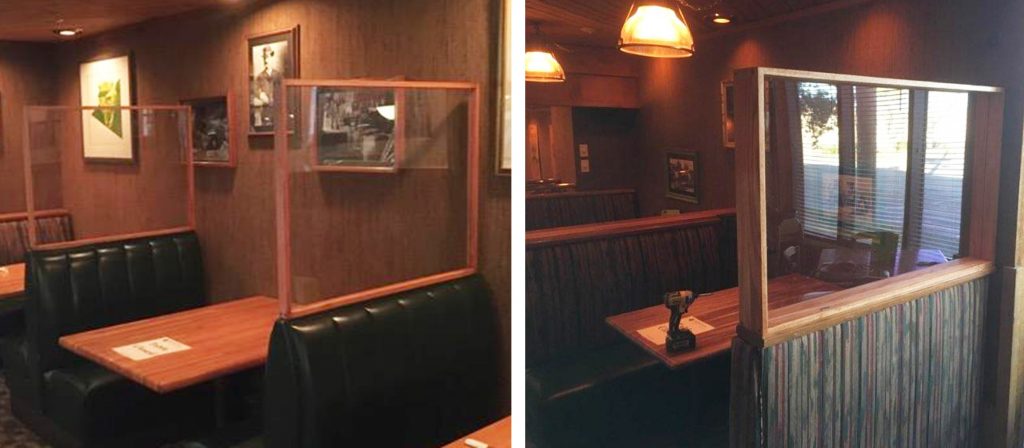 What kind of quality are the wood frames?
"Being a skilled tradesman, Nathan uses dado cuts, rabbet notches, and other advanced wood, cabinetry, and mill working techniques to fabricate very durable, high-quality, frames designed to blend with a business's existing interior design."
What other types of non-retail or healthcare projects have you completed?
"We met with the Department of Motor Vehicles who were looking for custom solutions," says Jason. "We built some custom prototypes which were approved, ordered, and shipped throughout the state."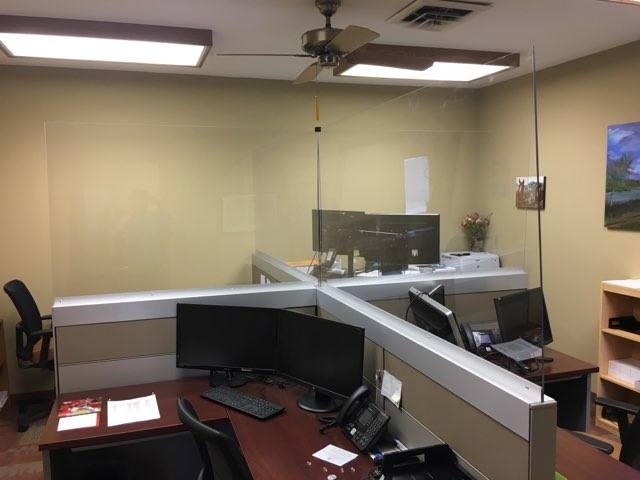 "We have supplied all of the courtrooms at the county courthouse. The desktops, all of the witness stands, the judges' stands. It started off as one small courtroom as a test run and they ended up ordering another nine courtrooms."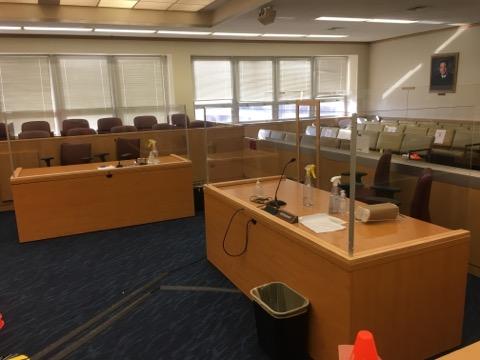 "The moveable shields with wheels were developed because people need to move around the courtroom during proceedings," explains Tomlinson. "The officials wanted rolling barriers in every courtroom in case someone needed to stand in a place other than a typical witness stand such as people with ADA restrictions. This way the sneeze guard can be positioned right in front of them."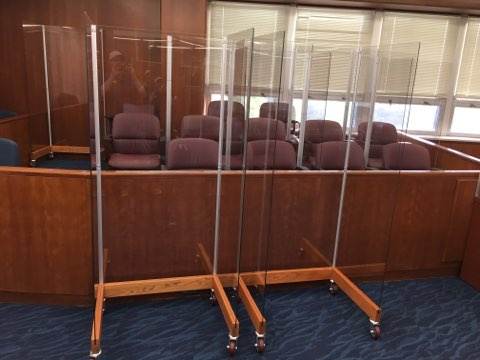 Where do you see partitions going?
"The feedback we get is positive. We're trying to do our best to help the public," says Jason. "It is clear that sneeze guards are a key component to long term prevention and recovery. The needs are going to adapt and change over time however as a whole, barriers are not going to disappear. Look at where flu cases are because we are taking these steps to try to slow down COVID."
For more information on Binswanger's line of Breath Barrier products, please click here, email [email protected] or call 800-365-9922.