Glass Edge Options
There are a wide variety of glass edge options. In flat glass like mirrors, tabletops, and shelves, you can specify the type of edgework you prefer.
No Edgework
If you were to opt for no edgework, it would leave you with sharp edges that would only be recommended if all raw edges will be completely concealed in a frame.
Seamed Edges
A light sanding produces seamed edges. The finish is non-uniform, and almost appears wavy. In thinner pieces of glass-like 1/8" (or double strength), this non-uniformity may not be noticeable. Still, on pieces of 1/4" or 3/8" glass, the disparity can be visible, particularly on shelves and mirrors.
Ground Edges
Ground edges have a consistent finish with a satin appearance, reducing the reflectivity through the glass or mirror's edge. On a 1/4" mirror, ground edges help make the edge's appearance almost imperceptible.
Polished Edges
Polished edges are produced by buffing the glass's edge with a fine abrasive material and polishing oil. The result is a beautiful translucent finish. Flat polished edges are excellent options for the thicker glass used in shelves and frameless shower enclosures.
In addition to the options pictured here, others are available such as ogee, triple pencil polish (waterfall), wave, or chipped. Occasionally these specialty edges are available on stock items, but they typically have to be custom fabricated and may add cost.
View Our Glass Edge Options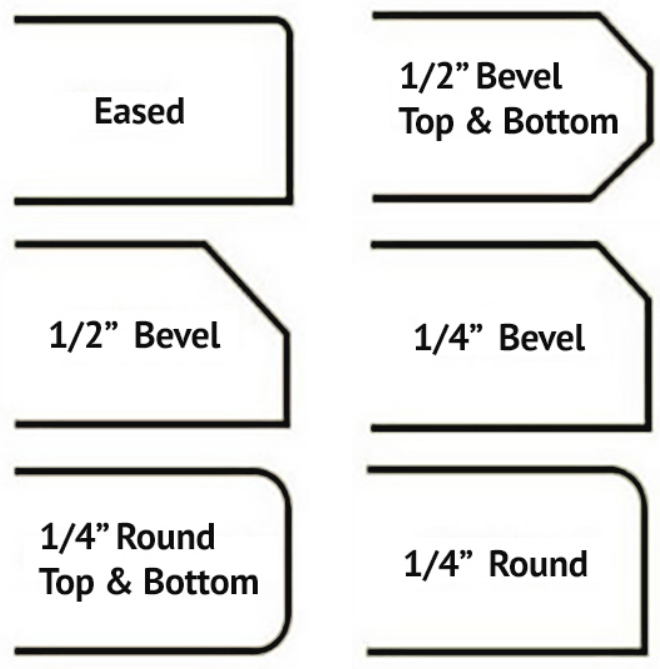 Additional Residential Services