We've all seen kitchens with beautiful glass front cabinets that help feature favorite serving pieces. That is a style that works in both traditional and contemporary designs. But there is so much more you can do with glass in a kitchen setting. Here, we'll discuss both glass backsplashes and solid glass countertops. These are gorgeous alternatives to stone and tile that work whether you are going bold or classic, loud or neutral. With so many options in color, texture, and thickness, glass backsplashes and glass countertops continue to gain in popularity.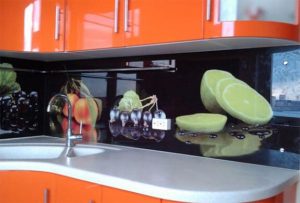 Just because other countertop materials like granite, marble, laminates, or engineered stone are more common choices for kitchen countertops and backsplashes, that doesn't mean glass isn't up to facing the demands in a kitchen. As you research your options, you'll want to be familiar with a few terms so you can decide what will work best for your kitchen.
Float Glass – This glass is made by a process where molten glass is "floated" on a bed of molten tin to produce sheets of very smooth, flat glass with uniform thickness.
Slump Glass – Glass is set in a mold and heated until it "slumps" or softens into the shape of the mold. This would be used to make counters with variable textures and shapes.
Kiln-fired Glass – Remnants of glass are melted and in a kiln and recycled into new glass. This makes nice strong, hard glass, but the size of the glass is limited by the size of the kiln.
What all of these types of glass have in common is that they are very hygienic, heat-tolerant, and durable. Unlike traditional tile or wooden backsplashes and countertops, glass is non-porous, so it won't absorb odors, stains, and wears well over time, even when exposed to high temperatures and sunlight. Once installed, they remain lustrous and bright, making your kitchen feel fresh and inviting.
Because glass countertops are basically a custom product, you can get creative by combining various features. For example, if you are concerned about the irregularities in a textured surface, you can combine a smooth top with a textured bottom to get the visual appeal without worrying about wobbly wine glasses, or cleaning issues.
Since most glass is usually clear or at least translucent, back-painting or coating on the bottom surface is a typical practice not only to add color and beauty to your glass countertops, but also to conceal what lies beneath inside your kitchen cabinets. Undersurface lighting is a dramatic option that can both enhance the decorative effect and provide additional light in your kitchen.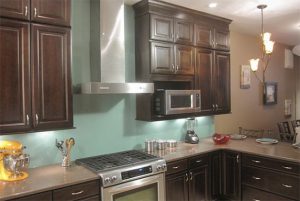 Moving on to glass backsplashes – these can be fabricated from a single sheet of glass, or multiple sheets that are installed flush to one another, custom cut to fit your kitchen. Just as with the countertops, these can be back painted, frosted, patterned, etc. One beautiful choice is to install transparent glass over wallpaper. It protects the paper and really makes the colors pop. The glass acts as a reflective light enhancer to brighten the room. Additionally, a glass backsplash can be superior to tile in that grout lines are a non-issue.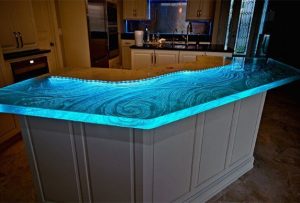 Digital printing technology allows for the ultimate customization, having any photo or image you choose printed on to the glass itself. Standard sizes for behind the stove are orderable in a variety of colors and patterns, but the options are truly limitless when you can select any photo, artwork, or pattern.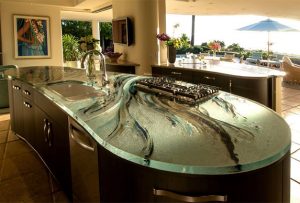 A caveat worth noting for those with small children – just like other polished materials (such as granite) glass does show fingerprints. Caring for glass in the kitchen is straightforward. Wash with soap and water after you cook, and do a weekly cleaning using a mix of warm water and white vinegar. The only thing you need to be careful with is scrub brushes. They can scratch the glass, so use a cloth to clean it.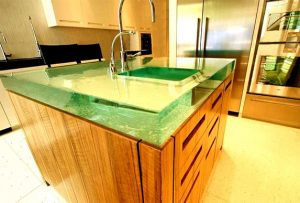 Glass is so versatile, the only limit to using it in your kitchen is your imagination. And with the benefit of being inexpensive, easy to clean, and low-maintenance, you get a kitchen that looks as good as it functions.