We've all seen those shows on the DIY Home networks. Absolutely everyone is always asking for open floor plans. Nobody ever asked to carve a space up with more walls to create smaller rooms. If it isn't in your budget to go bashing down walls, or if you can't because they are load bearing or hiding plumbing, you might consider using mirrors to make a space feel bigger. With their ability to reflect light and color, mirrors can not only make a room look larger, but also brighter and more open.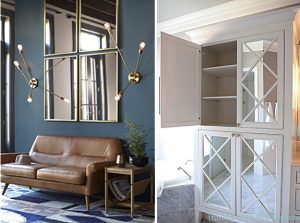 Placement is key. Hanging a mirror where a light fixture is reflected effectively doubles the brightness. Placing a mirror opposite a window can create the illusion of a second window. If your room has no windows at all, you can create the illusion of one by framing the mirror out with mullions or muntins. Folks that like flea markets or garage sales can often find antique, shabby-chic window frames without the glass that can be backed with a new mirror.

In a small powder room, a floor to ceiling mirror behind your pedestal sink will do wonders to make the area feel more capacious. It may seem counter-intuitive, but sometimes, a BIG accessory is just what a small room needs. An oversized mirror adds that much more visual square feet. One trick that mimics the idea of a huge mirror is to hang several together in a grouping.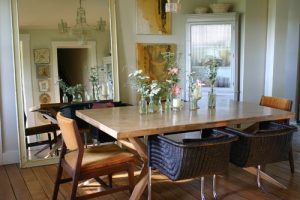 I'll bet all of us could use some strategies to hide clutter. But the look of closed cabinets or closet doors tends to shrink a space. Front those doors with mirrors and the problem is solved. There are beautiful ways to make this update in a contemporary way, without harkening back to the sliding closet doors popular in the 80's, though even those seem to be making their comeback these days.