There are a number of options available to consumers when looking to update their shower enclosures. Here, we'll discuss the various types of glass shower doors to help you make decisions when renovating a bathroom.
First, we'll cover the sliding door, also sometimes called a bypass door. These are perhaps the most popular, probably since they can fit into smaller spaces where other doors will not – including small corner stand-alone showers. Modern designs are available that have top-of-the-line hardware with silent gliding systems. They are typically designed to be installed on the shower pan or tile apron, and usually have two panels that slide in both directions so you can access the shower from either side. Some doors simply slide within tracks, others may have mechanical rollers. This type of shower door can be used on both stand-alone showers, and in shower/tub combinations.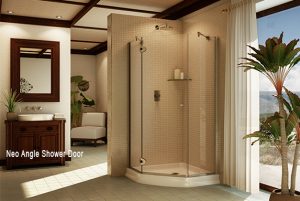 Neo angle shower doors are a great choice when space is at a premium. You can squeeze a corner shower into a small bathroom by selecting a neo-angle shower door, since they span across a 90-degree corner. There are typically a pair of side panels flanking the door – and the door typically will open out into the room.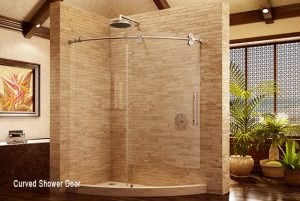 The first curved shower doors came on the market in the late 80's, and have only continued to increase in popularity. The smooth flowing lines really make a string design statement. And the curve can be space saving as well, making the most of your bathroom area, while making the shower as roomy as possible. Round or neo-round options are available, depending on whether your shower will be free standing, in a corner, or against a wall. These have the added benefit of being easy to clean since you don't have to scrub in any corners.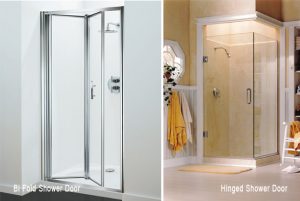 Hinged shower doors swing in just one direction – just like any typical door in your home. The hinge can be attached either to other fixed glass panels, or to a shower surround or wall. Because they open in only one direction, you must plan for clearance in your bathroom design. These tend to be commonly used in stand-alone shower stalls.
A pivot shower door has a hinge that allows the door to swing open in two directions, both in and out. The placement of the hinge can go on either side of the door, but for a really neat effect, the hinges can be mounted in the center, thereby creating a revolving shower door.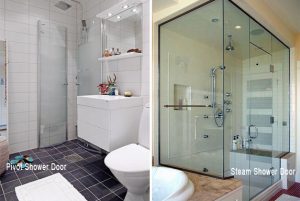 Bi-fold shower doors combine the functionality of a sliding door with the movement of a pivot door. It has two panels attached by hinges, and when one pulls the handle, the two panels fold in toward one another.
If you are looking to install a steam shower, you will need a special door that will be tight along all seams, top to bottom, to ensure you are trapping the steam within. The door for a steam shower will need to be hinged, along with the addition of an air-tight seal. You can also have the option of adding a transom above that opens and closes so you can selectively release some of the steam as you wish.