Got a fantastic view from your deck that would be even better if it were not interrupted by the railing in the way? Or have and interior stairwell or walkway in your home or office that you wish wasn't so dark? Both of these issues could be resolved by the same solution, a sleek, sophisticated glass railing. You no longer have to sacrifice scenery for safety! Use of glass railings to surround pools, porches and overlooks is on the rise because of their extraordinary beauty and clarity.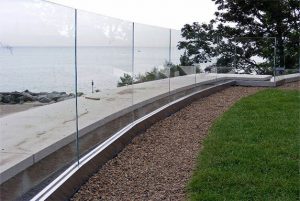 Glass railings can help with environmental factors indoors and out. On your balcony, a glass railing serves as an excellent wind barrier, while still allowing optimal visibility. But if air flow is a concern, you can choose slotted glass balusters to let the breeze pass through. In an interior space, more light can be allowed through by replacing bulky, blocky railings with glass ones. And the railing can be lt for a dramatic effect that also adds an element of safety. Note that indoors, an interior grab component is necessary to meet building code requirements as a guard rail.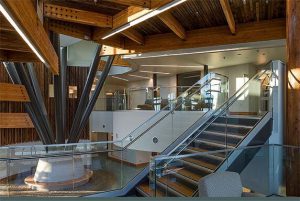 For the exterior, choices can be made to leave the look entirely clean by setting the glass in channels (or even embedded into concrete), or you can select from a number of top rail and mid rail options. The pinnacle in design is the structural glass railing that utilizes a heavy aluminum base that can accept .5 inch tempered glass, and has no posts, so it provides the best view possible. You can also add specialized coating to the glass to hide slab edges or HVAC units, or to add a decorative pattern. And you can choose from various color tints for the glass. Framing can be powder coat finished to your color specifications for durability (as well as salt spray resistance for those that are seaside) and are guaranteed not to crack or blister.
​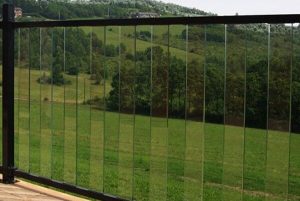 I can see clearly now, the rail has gone!