Quality, value, service and trust. It's the many small and big picture items that set Binswanger Glass apart from the rest:
LONGEVITY: Established in 1872, Binswanger Glass is the largest (and oldest!) full-service retailer and installer of automotive, residential and architectural glass and aluminum products in the United States. We're doing something right.
SANDBOX: Trusted for over 140 years in the glass business, Binswanger's 900+ employees operate out of 61 company-owned locations in 14 states. Binswanger's contract division frequently travels outside this footprint to install and service commercial projects across the United States.
SAFETY: Binswanger is fully licensed and insured and we are proud of the culture of safety that our company and employees have created. No job is so important, and no service is so urgent, that we cannot take time to perform our work safely. Binswanger continues to invest in safety training and equipment. Never assume your contractor is insured. If there is an accident or injury on your project and the subcontractor is not properly licensed or insured, the developer or homeowner is often responsible.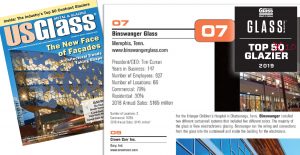 CODES: Simply put, building codes are complicated. Energy, safety, wildlife, fire, egress, hurricane. There is a lot to know and codes constantly change. Luckily, Binswanger Glass has teams of professionals who know building codes thoroughly and can help you crack the code to stay compliant.
SUSTAINABILITY: In addition to meeting or exceeding strict energy codes, Binswanger has partnered with the fenestration industry's most respected manufacturers. Collaboration and communication with our vendors and customers ensures projects are completed correctly the first time, on time.
SUPPLY CHAIN MANAGEMENT: Binswanger Glass believes in a Win-Win-Win philosophy. When we win, our customers and suppliers win too.
SCALABLE: Whether you need one tech to service a door closer or a whole crew to install a curtain wall system, Binswanger Glass offers customized solutions with a wide range of services to give your project the detail it needs.
FAST START UP: Speed to market is one of Binswanger's core strengths. We are staffed and ready to go to work; quickly and safely.
ACCOUNTABILITY: All work is guaranteed for a minimum of one year. Additional warranties vary by product so ask your sales representative. Binswanger Glass has a reputation for standing by the products we sell and install. Every one of our 61 locations has an A+ BBB rating.
SINGLE POINT OF CONTACT: A dedicated project manager with one email and one phone number for fast, proactive service
Looking to replace a mirror in your bathroom or build an office tower? Call our Memphis central service office at 1.800.365.9922 or find a location near you.